The Legend of the Father
Mathusala has defeated the Litch King, but now he faces an even greater challenge...
Like father like son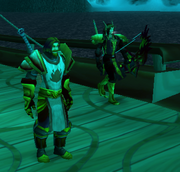 Though the Litch King and his undead hordes had been defeated, it came at great cost to both the Horde and the Alliance.
The Guardians of the Light
had been almost annihilated in the storm of ruin caused by the final showdown between Arthas and Mathusala. With his purpose in the far north of the world fulfilled, Mathusala, once a captain of Lorderon, a Loyal soldier, a Willy adventurer, an unstoppable Deathknight, A holy warrior, and the living testimony of the light, now only wished for peace. A chance to return home. His conflict in the frozen wastes had aged him prematurely as well as left him exhausted. He had been pursuing the Litch King for almost his entire life and now he came to realize vengeance was not sweet. However, The world he hoped would grow from the ashes of all the undead would be worth his sacrifices to create it. Deathecus, his brother, had been claimed by an unknown figure the resembled a Deathknight. Mataus, the greatest mage of the Scarlet Crusade, had literally gone in a flash of fire as he consumed himself to wipe out the entire Cult of the Damned. So many had died to win the war. Mathusala's willpower was finally spent. He had just enough to hold the curse of the Worgan in check as well as the last whispers of the Litch King imprisoned in his mind. It was time to retire and return home.
Its a pity that his homeland was now the the new front-line,
To be continued!
Honor thy Father
The Curse of the Worgan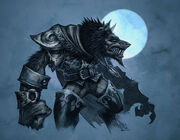 Coming soon...
Deathwing
Links to the Rest
Community content is available under
CC-BY-SA
unless otherwise noted.